SUMMARY
NFT Knox was founded on the concept of utility, bridging blockchain technology and non-fungible tokens (NFTs) to link real-world assets with digital representations. At its core, NFT Knox securely stores high-value, real-world assets and permanently ties each asset to a transferable and redeemable NFT. Our service uniquely leverages blockchain to unlock highly-liquid transactions on traditionally slow-churn, high-friction product categories.
While the primary focus of NFTs to date has been on novelty digital art, our technology scales NFT technology to accommodate any number of physical items - for example, graded collectibles, commissioned paintings, or even high-end valuables. Traditional transactions on real-world assets involve real risk. Damage, theft, authentication, and insurance can be costly and incur transaction time due to shipping. With NFT Knox, conducting transactions on authenticated, secure real-world assets is as simple and rapid as sending an email.
ASSET-BACKED NFTs
At NFT Knox's core is the concept of utility: correlation of a physical asset with a digital representation contains immense value. An NFT is a clear answer to how to represent that physical asset. An NFT's unique digital address, combined with blockchain's consensus-based ledger, provide a technology that ensures the stable digital representation of a client's physical asset.
NFT technology brings the power of innovation and creation to digitally speak for any real-world element. The publicity of the metaverse should not be solely related to the benefits of a digital world … the connection between it and real life is where the real excitement lies. NFT Knox is spearheading technology allowing clients to access valuables in both spaces.
NFT Knox enables consensus verification of NFT ownership through the minting process, which allows the mirroring of a physical collectible or asset in digital format. This consensus is accomplished by (at minimum) memorializing a high-resolution video or image of the possession in question on the chain, and the immutable record is what verifies ownership rather than any singular entity granting that authority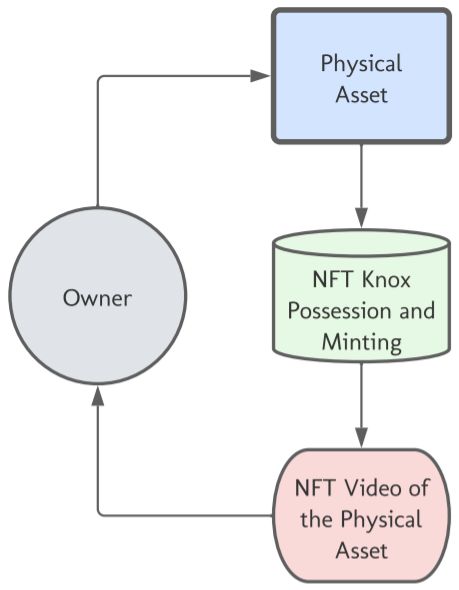 NFT KNOX SECURITY
The physical assets that NFT Knox hold have a combination of emotional, financial, or sentimental importance, and the security and insurance procedures we have in place match that significance.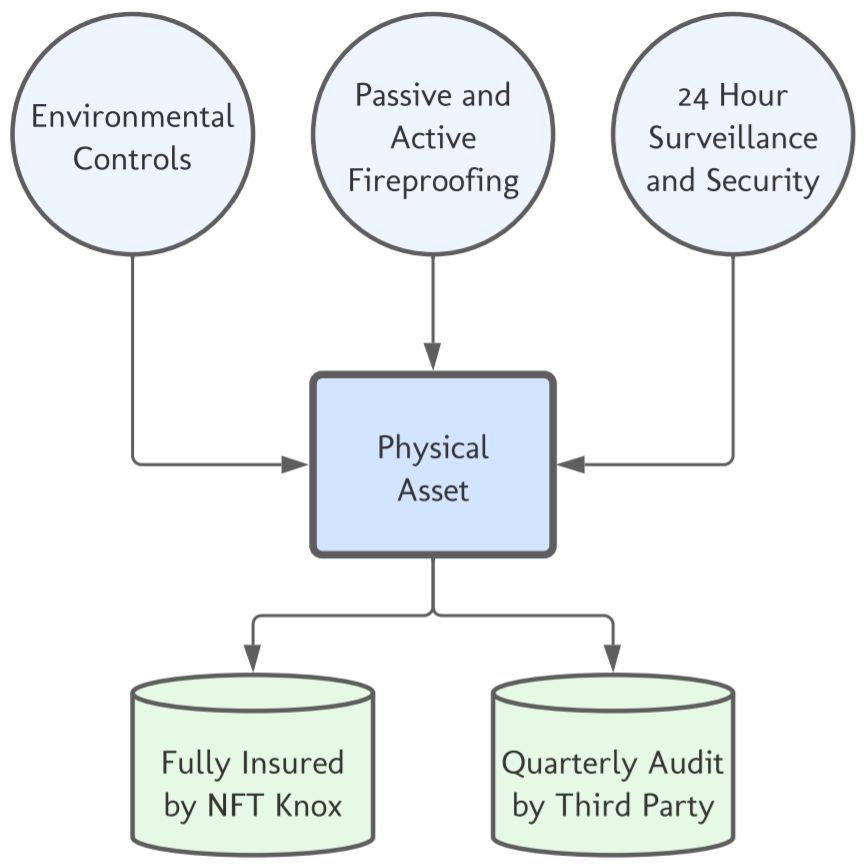 NFT Knox understands the storage of an asset must ensure preservation. Equally as important, the trust in our storage process must be unwavering and transparent. We store assets in temperature-, humidity-, and UV-protected conditions with both active and passive fire protection measures in place. We have also enhanced the security associated with these measures as an additional layer of protection.
Our facilities have 24-hour monitoring and redundant security systems in place to ensure the physical security of our assets. While we don't disclose the precise location of our secured assets, NFT Knox does participate in routine, transparent 3rd-party audits of our entire inventory to maintain the confidence of our clients.
The assets in our possession are fully insured should the impossible happen. We have guaranteed the asset's value for as long as we are responsible for its preservation.
PHYSICAL REPRESENTATIONS - NFT KNOX PROOFs
By design, secure storage of physical assets in the NFT Knox vault limits our clients' access to their assets. As such, we provide a mechanism for clients to retain some tactile, physical representation of their asset in the NFT Knox vault – we created NFT Knox PROOFS.
Building on NFT Knox PROOFS, we have also developed a warranted document verifying ownership of the asset in question for copyrighted items. We offer these NFT Knox CERTIFIED PROOFS to each collector or individual as part of our purchasing process.
NFT Knox PROOFS offer a stunning visual presentation for our client assets that lack copyright complications. We offer NFT Knox PROOFS through our platform at the owner's preference, from the most basic representation to a near indistinguishable replica.
REDEMPTION OF THE ASSET
At any time, the sole owner of an Asset-Backed NFT can redeem the physical asset. NFT Knox's process for validating the owner's physical mailed address, as documented in this whitepaper, gives all parties transparency as to where the asset will ultimately reside should an asset redemption be triggered.
A redemption operation is simple. The owner initiates the process by transferring their NFT to the NFT Knox redemption wallet and NFT Knox cryptodiagramically verifies the integrity of the owner-submitted mailing address. For added security, an email requesting the completion of that same signature process ensures an up-to-date mailing address for the pending redemption
Upon completion of any successful redemption process, the NFT associated with the redeemed asset is burned (destroyed) through our automated process. The creation of a newly minted NFT would occur should the owner who redeemed the asset wish to re-introduce it into the NFT Knox platform, ship it to one of our facilities, and restart the cycle.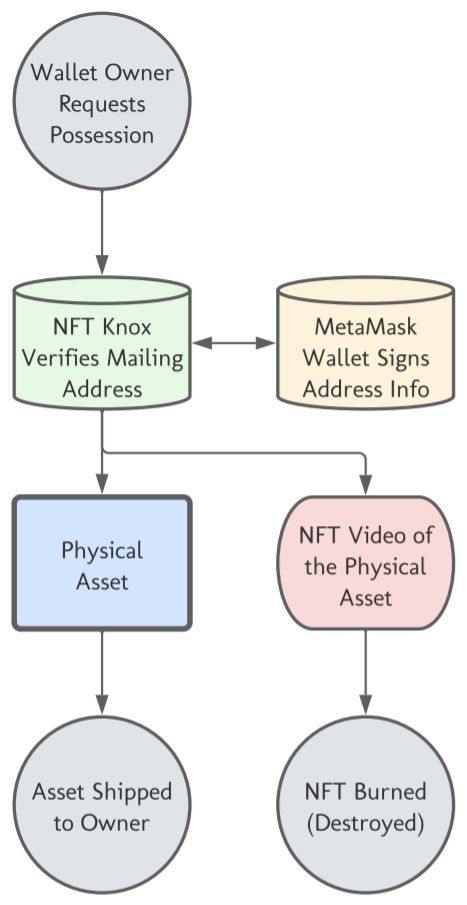 FINANCIAL MECHANICS
For every NFT sold through our minting process, NFT Knox takes a specific percentage of commission:
Value of Asset
$1 to $100 USD

10%

$100.01 to $500 USD

7.5%

$500.01 to $2000 USD

5%

$2000.01 and greater

2.5%
This is in addition to a 2.5% commission charged by OpenSea on every sale.
On subsequent sales, while the asset remains in NFT Knox's possession without redemption, a 1% commission is charged on each transaction and awarded to the original minting owner as well as NFT Knox. This is once again in addition to a 2.5% commission charged by OpenSea.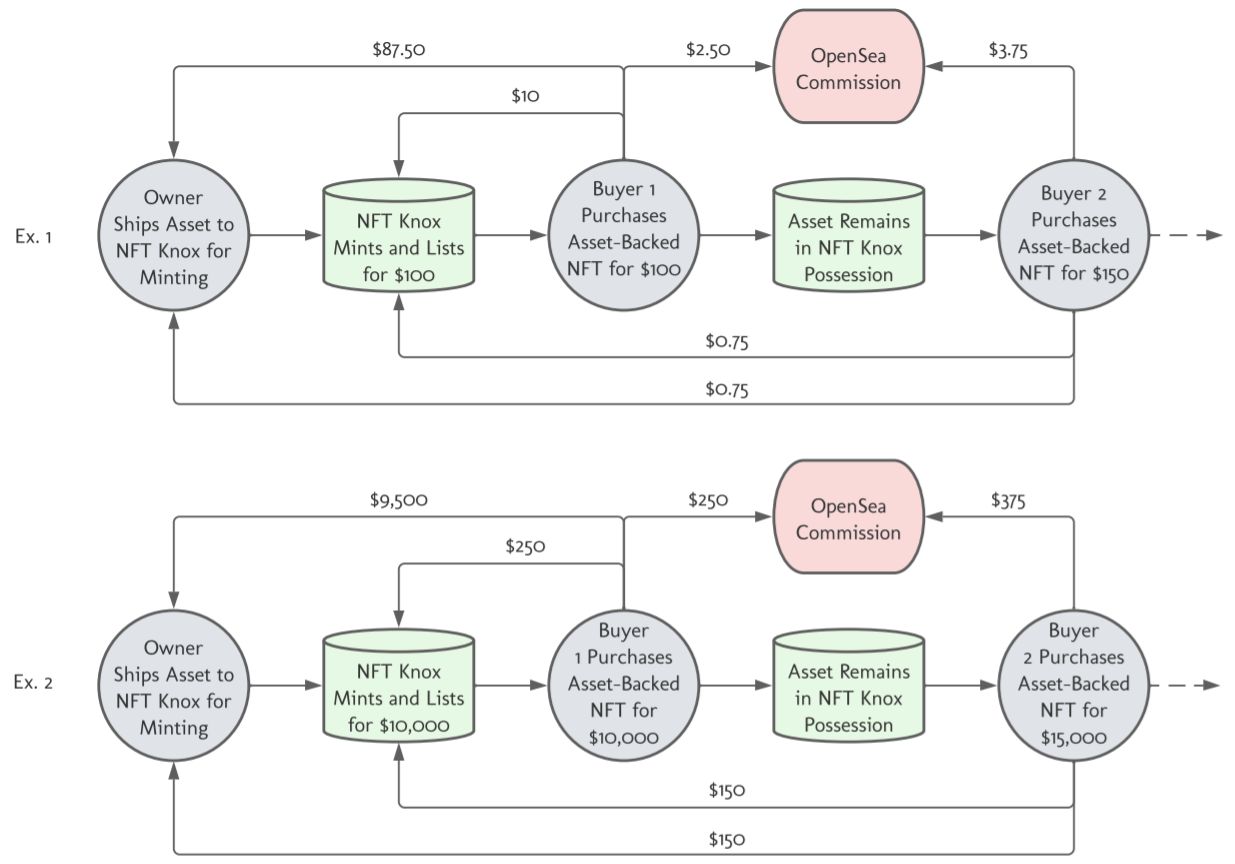 Shipping and carrier insurance costs when delivering the asset to NFT Knox are the sole responsibility of the asset owner.
At the time of redemption, shipping costs are addressed in the following manner:
US-based address

MATIC equivalent of $25 USD plus insurance through carrier

Non-US-based address

Contact support@nftknox.com
TECHNOLOGY
The NFT Knox platform is a one-of-a-kind solution for versatility, scalability, and connecting NFTs to tangible assets. In addition, its modular structure enables the smooth integration of blockchain technology and the implementation of third-party NFT marketplaces.
Our current web-based platform consists of two core components 1) a backend framework using Python, commercial cloud services, and API integration; 2) a frontend written in HTML, CSS, and Javascript. Integral to our frontend is our signature process, which interfaces with MetaMask to digitally sign and register ownership to the NFT and asset. This digital signature is a critical component to our verification and redemption process.
NFT Knox is not trying to operate simply in the digital space. We aim to connect a variety of physical asset classes with digital representations – to both improve authenticity and streamline the buying & selling of high-friction physical assets. We believe NFT Knox Asset-Backed NFT represent a sea change for NFTs and are among the first real-world use-case for NFT technology.
NFT KNOX 2022 ROADMAP
NFT Knox starts the Asset-Backed NFT concept with a collectible set of comic books. Later editions issued will include other collectibles such as trading cards and action figures. Further development includes the NFT Knox Portfolio feature, where a collector has the ability to track their collection's value in real time. Collectors will also use this feature to sort their collection by type of collectible.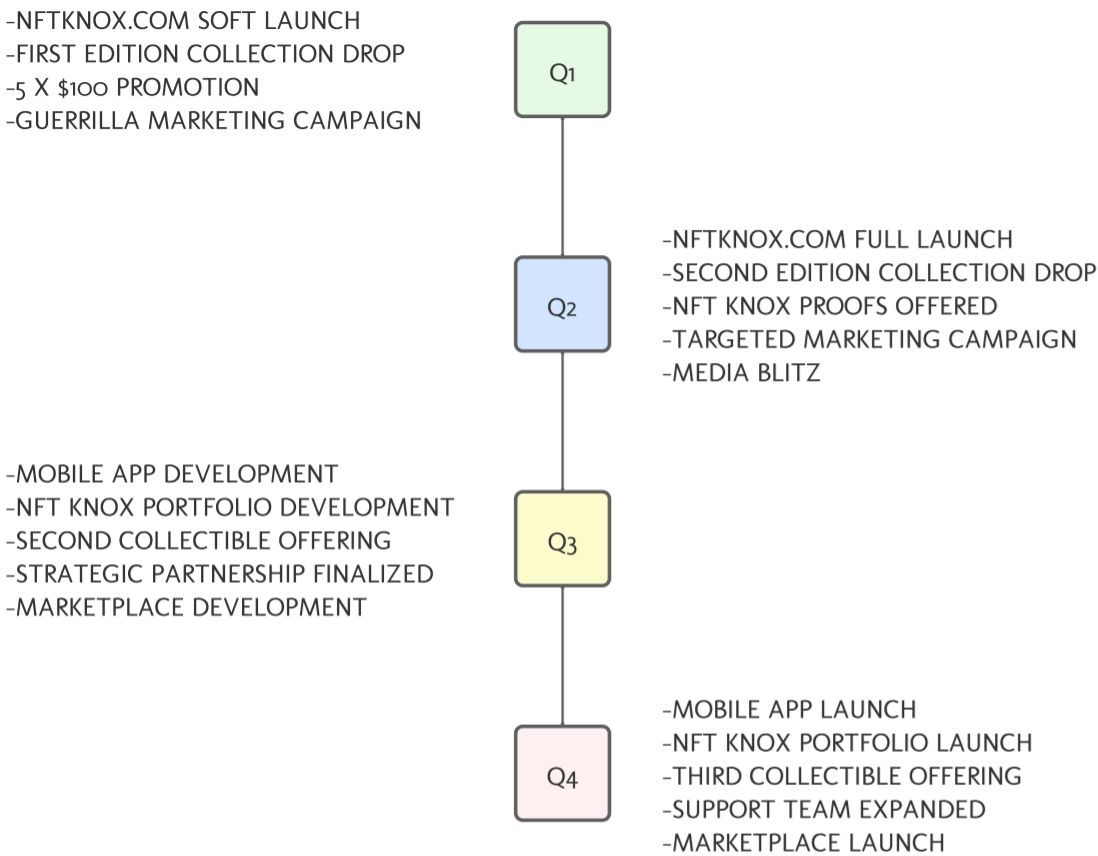 CONTACT
Continue your research or join us on our social media accounts:
DISCLAIMER
The information in this document is informational only, can be subject to change or update without notice, and should not be construed as a commitment by NFT Knox. By accepting this document, the recipient acknowledges that all information contained in this document or in connection with the offering is confidential and nonpublic. The recipient also agrees to keep all the information in confidence and not use the information for personal benefit (other than in connection with the recipient's investment decision). However, the recipient's non-disclosure obligation does not apply to any information that is part of the public knowledge. Any user should evaluate their investment based on independent assessments of the financial condition and other relevant factors necessary to make an investment decision that does not rely solely on the information presented herein.